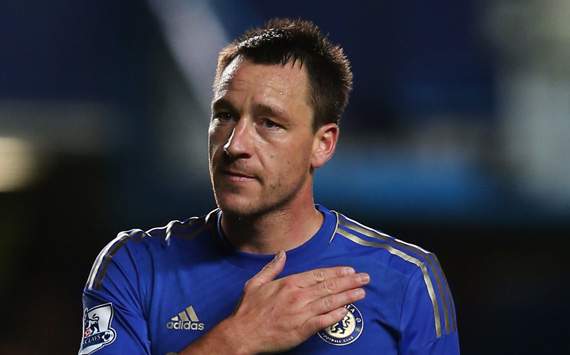 John Terry has announced he will not be contesting the Football Association's decision to ban him for four matches and fine him 220,000 pounds after he insulted Anton Ferdinand in Chelsea`s clash with QPR at Loftus Road last season.

Last month, an independent panel ruled that Terry had directed racist language at Ferdinand in the Premier League match, and the Chelsea captain was given two weeks to issue a response to the verdict.
"I want to take this opportunity to apologize to everyone for the language I used in the game," Terry said in a statement. "Although I'm disappointed with the FA judgment, I accept that the language I used, regardless of the context, is not acceptable on the football field or indeed in any walk of life.

"As I stated in the criminal case, with the benefit of hindsight my language was clearly not an appropriate reaction to the situation for someone in my position. My response was below the level expected by Chelsea Football Club, and by me, and it will not happen again.

"I will continue to do my part in assisting the club to remove all types of discriminatory behavior from football. I am extremely grateful for the consistent support of Chelsea FC, the fans and my family."

The three-man panel judging Terry's case concluded that he was not a racist but was not satisfied by his defense, describing it as "improbable, implausible and contrived." Earlier in the year, the Chelsea defender was cleared by Westminster Magistrates' Court of racially abusing Ferdinand.

Terry, who was first stripped of the England captaincy and then retired from the national set-up over the incident, will now miss the club's Premier League and League Cup matches with Manchester United, as well as Saturday's clash with Tottenham and a game with Swansea City.

Chelsea released a statement in which the club claimed it agreed with Terry's decision to not appeal the FA ruling, while adding that the club would further discipline Terry in a confidential manner.

"Chelsea Football Club believes John Terry has made the correct decision by not appealing against the FA judgment relating to language he used at the QPR match last October. Chelsea also appreciates, and supports, John's full apology for the language he used. The club firmly believes such language is not acceptable and fell below the standards expected of John as a Chelsea player.

"The Board has conducted its own investigation into the matter, and considered the various issues involved. The Board has taken further disciplinary action in addition to the four-match suspension and 220,000 pound fine imposed by the FA. In accordance with our long-standing policy, that disciplinary action will remain confidential."